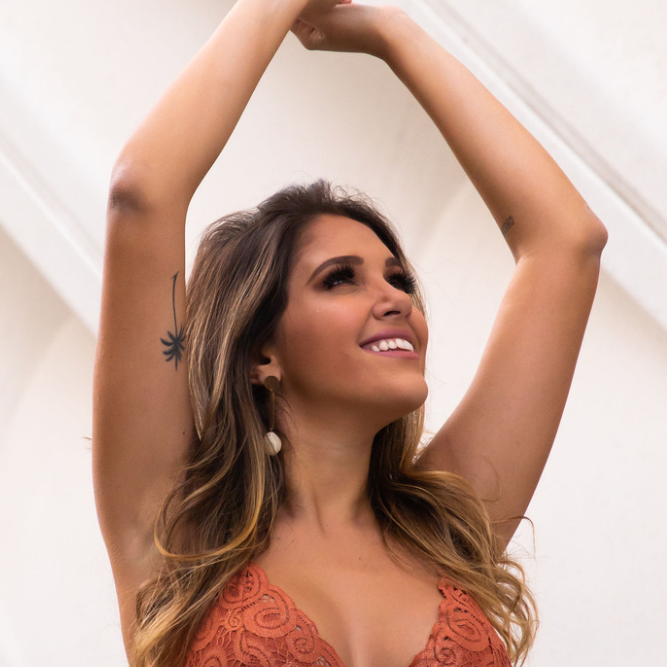 Cited as one of "Tap's Leading Ladies" by Dance Spirit Magazine, Melissa Tannús is a world-renowned professional tap dancer, educator, and choreographer. Born in Brazil, Melissa trained at Studio Uai Q Dança, and toured the country as a member of Christiane Matallo's tap company and with the band O Teatro Mágico. Her talent and dedication were quickly noticed by acclaimed teachers who awarded her with scholarships to train in the United States. Eventually, she decided to move to Los Angeles to follow her dream of becoming a professional tap dancer.
Throughout her career, Melissa was lucky enough to dance with world-renowned tap companies such as Chloe Arnold's Syncopated Ladies, Tapestry Dance Company, Sarah Reich's Tap Music Project, Melinda Sullivan Dance Project, Co.MMIT, and Rhythmic Tap Company. Other performance credits include Universal Studios Hollywood, US Open, Democratic National Convention, and at the Staples Center.
Melissa's TV credits include The Late Late Show, America's Got Talent, So You Think You Can Dance, and Good Day LA. She was also featured in articles on the New York Times, LA Times, DanceSpirit Magazine, Dance Magazine, and many other renowned blogs. Furthermore, Melissa was seen on Visa Commercial "What's Stopping You From Achieving Your Goals".
One of her greatest passions is to share her love for tap dance. She has taught at tap festivals and in studios across the United States and all around the world: the United Kingdom, Australia, Guatemala, and Chile, just to name a few. She has also choreographed for companies Footnotes Tap Ensemble, Reverb Tap Company and Sole Talk Youth. Melissa has directed the adult dance company Tapestry Too, and has her own company, Tap Com Mel.
After relocating to the Bay Area, Melissa decided to create the San Francisco Tap Festival with the goal to unite the local tap community, train young dancers, and inspire them to go after their dreams, just like she did. Melissa is elated to be a part of Immerse Artists Experience and to share her vast knowledge with the dancers at IAX!